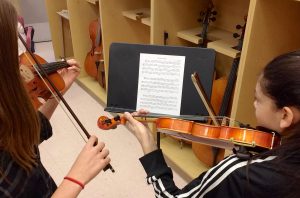 The Learning Potential of the Humble Fiddle Tune
When I first moved back to the big city and started teaching string classes again, I wasn't sure how I was going to approach teaching fiddle tunes to my students aside from just having them learn the tune itself.  I decided to just dive right in with a jig and see what would happen.  What I discovered was, you can learn so many things through jigs!
If you have ever looked through a fiddle tune collection, and the SMT Fiddle Tunes for Strings collection, you will notice that what is written is only the bare bones of a tune with little to no bowings or direction, and that is how it is meant to be.  A tune is subject to the individual player's interpretation and the particular style they want to play in.  This provides a great opportunity for you to teach and introduce many concepts.
Login or register below to become a SMT Member and get access to all of SmartMusicTeacher's FREE downloadable resources!