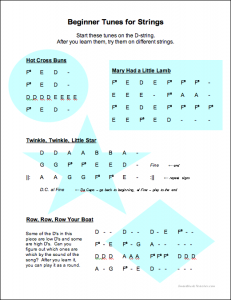 It is very common for string teachers, whether they be classroom teachers or private violin, viola and cello teachers, to start their students off playing by ear.  This sets up a foundation for intonation and listening.
Because playing a stringed instrument requires so much coordination just to begin, it is very important to leave notation out of the equation until some basics are established.  And as another intermediary step, it's also helpful for students to learn to play their notes pizzicato first, before adding the extra coordination of the bow.  This way students can focus on left hand technique.  Take it slow in the beginning, because it will avoid problems down the line, and it will pay off when they start reading music.
Playing by ear, I think, is also important because as string players, we always need to be listening to our notes, so it gets the students focused on that right away, which is essential to Teaching Fingering, Shifting and Intonation Without Fear.  I think playing by ear in the beginning on any instrument helps students realize that playing music is an art based on sound, not a skill based on reading.  They also learn to trust that they know when something sounds right or wrong.
To continue reading, Login or Register Below to gain access to Premium SmartMusicTeacher content, FREE downloadable teaching materials, and blog updates!