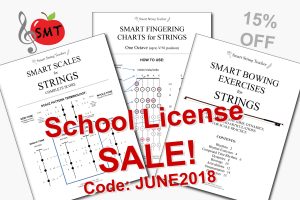 Hello SMT Followers!
I know I haven't posted since the conference because school has been endlessly crazy with field trips, concerts, exams, report cards and more. I can't wait until it is all over because I am just bursting with new blog topics to inspire you over the summer.  You'll be armed with new ideas for the new school year, including how to teach students to practice effectively, ideas on how to use finger patterns when teaching strings, how to get your classes to memorize their scales and more!
In the meantime, it's also time to order your new books and supplies for the new school year, so SmartMusicTeacher is having a 15% off school licenses sale from now until June 30th!
Save on school licenses of:
To take advantage of the savings, please use the code JUNE2018 when you checkout!
Enjoy!