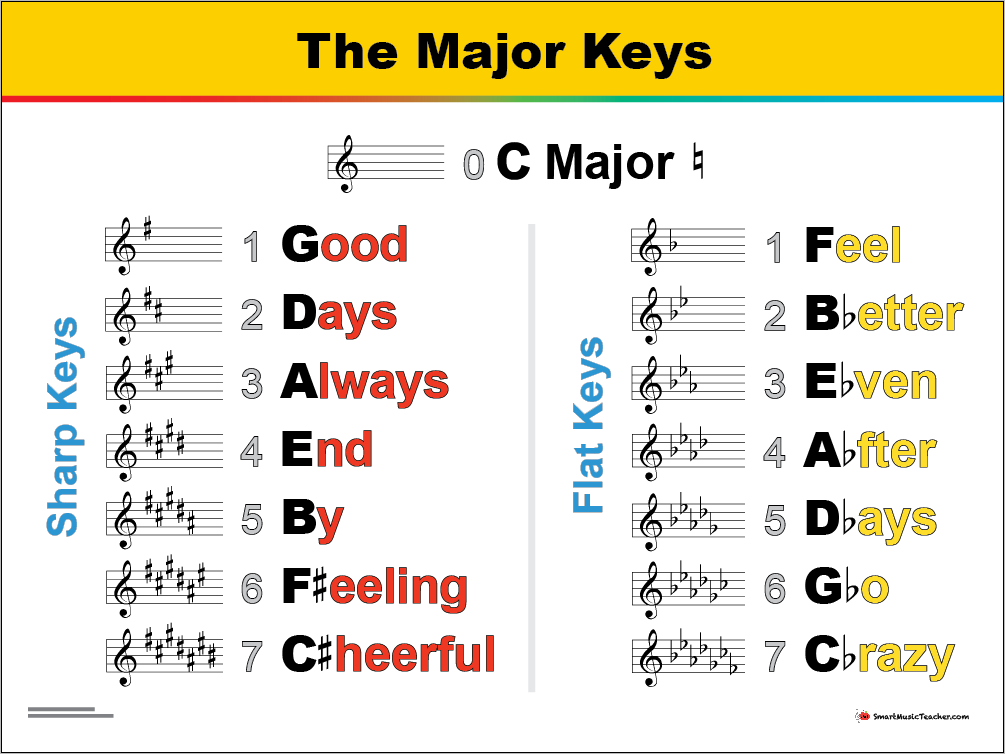 Great for the studio or the classroom!  Posters are in high quality PDF format and can be sent to your local copy shop for printing.
All licenses are for limited reproduction for the use of one private teacher or facility.
Add to Cart
$2.00 CAD 
SMALL 8.5″x11″ Poster
Add to Cart
$5.00 CAD
  MEDIUM 11″x17″ Poster
Add to Cart
$7.00 CAD
  bundle including LARGE 18″x24″, MED 11″x17″, and SM 8.5″x11″ posters
Download Now
FREE
black & white SMALL 8.5″ x 11″ poster
Here is a poster to make teaching and memorizing the Major Keys SUPER EASY, and brighten up everyone's day at the same time!
I was never able to find a mnemonic for memorizing the major keys, so I made one up.  The great part is, as the students memorize them, they are also sending themselves a positive message.
Sharp Keys:  Good Days Always End By Feeling Cheerful
Flat Keys:  Feel Better Even After Days Go Crazy
Yay!
I hope you can help me make this as popular as Every Good Boy Deserves Fudge, All Cows Eat Grass, and Father Charles Goes Down And Ends Battle!